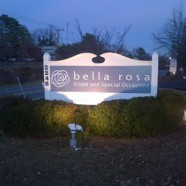 Dear Engaged Couple- I heard it from a wedding professional who seems to know—the order for planning  a wedding?  First you engage a venue.  No surprise here, right?  Venue calendars fill up quickly.  Many popular vineyards in the Charlottesville area are now booking for 2015!  Next in the order of wedding planning is finding a wedding gown.  Now that IS a surprise, or at least it was for me.  There is so much else to planning a wedding.  Finding the right dress sounds fairly simple.  However,my source (who works at a bridal boutique) assures me that a bride's wedding gown is almost never purchased off the rack.   The dress has to be ordered, and then, it has to undergo alterations.   Plan on at least two, maybe three, four fittings.  So, the whole wedding gown purchase process can take months. 
 Until recently there has been one wedding boutique in all of Charlottesville—Sealed with a Kiss, located on the downtown mall—one boutique even though Charlottesville has become a destination wedding mecca for folks living on the East Coast (think DC and NY) and even though Charlottesville's population is on the rise. The population in the C'ville area (which includes Albemarle, Nelson, Fluvanna and Greene Counties)  is as follows:  In 2000 it was 159,576; in 2010, 200,683; and it's predicted that in 2020 our population will be 225,775.  That's a lot of people.  That's a lot of weddings and wedding gowns!
Now, though, Charlottesville has a new bridal shop.   It's named Bella Rosa (translated as beautiful pink).  Since it is located on Ivy Road near Vivace Restaurant,  and since I often have business to do on Ivy Road, I have been watching as builders and electricians and such have been readying the property for business. The result is well, perfect, I'd say. 
Bella Rosa–Italian for Beautiful Pink–that's the name of this

beautiful bridal shop!
 Today (Friday, December 27, 2013) I stopped in and introduced myself to Heather Stone the owner,  and Kelsey Lessick, the Assistant Manager.  Both women are oh, so friendly, and so excited to be here in this
wonderful city..  They gave me a tour of the place.  It is elegant (get a load of the chandelier) and roomy.  There is plenty of seating if your mom, or bridesmaids want to tag along while you dress shop.  And the inventory?  There certainly seemed to be a lot of dresses to choose from!  Heather and Kelsey invited me to take a few pics, so see for yourself! 
So stop by Bella Rosa–but first, make sure you get that venue lined up.  I'm just saying…. For more information, go to https://www.bellarosabridal.com/
  p.s.  Bella Rosa also sells tuxes and accessories, like jewelry